Non-Emergency Medical Transportation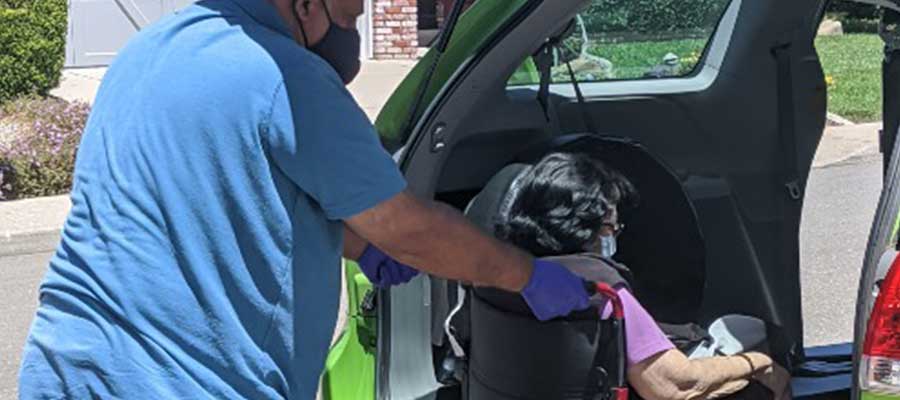 We offer Non-Emergency Medical Transportation (NEMT) and Paratransit services all over Tri-Valley and other Bay Area locations in California, such as, Pleasanton, Dublin, San Ramon, Livermore, Danville, Fremont, Milpitas, San Jose, Berkeley, Oakland, and San Francisco, to name a few. 
We serve large, well-known health care institutions in the Bay area, serving large segments of the population.
Our Non-Emergency Medical Transportation (NEMT) offers the following valuable services:
SafeRidezz offers Non-Emergency Medical Transportation (NEMT) services with utmost attention. Our drivers take care to assist passengers with all their necessary equipment. They make it as comfortable as possible while on their ride. We ensure that the rides are safe and reliable.
We provide on-time, accessible and seamless transportation. We offer pick-up and drop-off rides for NEMT passengers to their scheduled medical appointments or special care facilities. Rides are pre-booked and can be scheduled up to two weeks in advance.
Our transportation service also includes wheelchair vans for passengers who require special care.
Our fleet of vehicles includes ADA Compliant, wheel-chair accessible vans.
We thoughtfully design each ride by:
• Communicating every step of the way between our drivers, clients and destination facilities
• Using live GPS tracking
• Installing safety cameras in our vehicles
• Using dispatch software for every ride
Community Trustworthiness
Our team provides full support from our staff and drivers concerning transportation service requirements. We uphold our reputation as trusted by the local community for our safety and reliability. Our drivers are often respected and requested by clients for the individualized care which they extend to all our customers.
As a trusted transportation solution, we are committed to meeting varying transportation requirements with the highest quality and integrity. This makes our company a highly sought- after provider in the area.
Exemplary Service Standards
We maintain consistent and excellent service standards for the clients. We ensure all the ride facilities are accessible to the passengers and are compatible with their sense of independence.
CDC guidelines adherance for cleaning and sanitizing
Meticulous and regular vehicle maintenance
Safety equipment installed in every vehicle
Fleet tracking in every vehicle
Our company considers our passengers' needs as our top priority. We treat every client as patients under our care during their time in transit.
Drivers are well trained in First Aid CPR, PASS Certification and Wheel-chair Training. They also undergo defensive driving courses and extensive on-the-road training.
They are friendly and compassionate towards people with Non-Emergency Medical Transportation (NEMT) needs.
Convenient Transportation
With high technology equipment and wheelchair accessibility, SafeRidezz offers safe and comfortable rides for the disabled and with special care.
Our team has extensive experience providing child-care transportation which relies heavily on utmost punctuality and individualized passenger care. This experience and mindset have therefore become our core competency. This crystallized our overall business practices and set us apart from the rest.
SafeRidezz Operates with a Commitment in Excellence
SafeRidezz was started with a purpose to deliver the need of the hour in the Tri-Valley area. We believe in making a positive impact on people's lives families and communities at large with our dedicated offerings. We ensure timely, reliable and seamless rides for everyone.
If you need a ride for you or your loved ones, give us a call and we can pre-book your ride so you can be sure your driver will be there at your scheduled time!
Do You Need More Information?